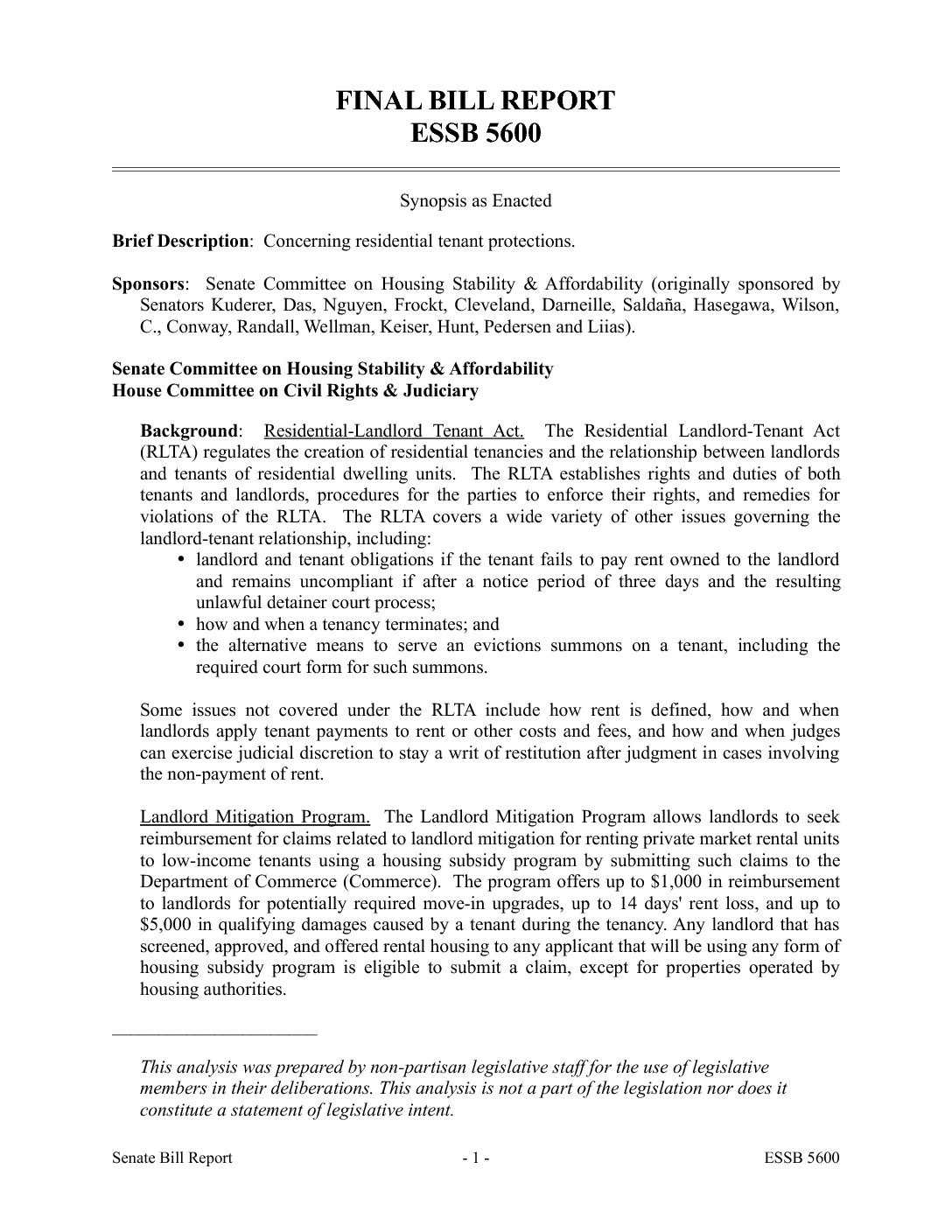 Effective July 28, 2019, the Washington State Residential Landlord Tenant Act (Chapt 59.18 RCW), has been signficantly modified benefitting tenants. Please note the new changes.
Brief Summary of Revisions:
Extends the 3-day notice to pay and vacate for default in rent payment to 14 days notice for tenancies under the Residential Landlord-Tenant Act.
Creates a uniform 14-day notice to pay and vacate that includes information on how tenants can access legal and advocacy resources.
Requires the Attorney General's Office to provide translated versions of the uniform 14-day notice on its website in at least the top 10 languages used in the state.
Requires a landlord to first apply any tenant payment to rent before applying the payment toward other charges.
Requires a tenant to pay into court or to the landlord upon judgment for default in the payment of rent within five court days any rent due, any court costs incurred at the time of payment, late fees that may not exceed $75 in total, and attorneys' fees if awarded, to be restored to his or her tenancy.
Provides requirements and limitations on the award of attorneys' fees under unlawful detainer actions, based on the amount of rent awarded in the judgment and on whether the tenant or landlord prevails at a hearing where judicial discretion is exercised.
Provides the court with discretion to provide relief from forfeiture or to stay a writ of restitution based upon the required consideration of certain factors and with the burden of proof for relief on the tenant.
Expands eligibility of the Landlord Mitigation Program to include landlord claims for reimbursement in unlawful detainer cases where judicial discretion is exercised and there is an unpaid judgment for rent, late fees, attorneys' fees, and costs.
Enclosed is the Final Bill Report ESSB 5600 which summarizes the statutory changes with analysis and Public Law.