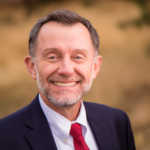 Robert R. Rowley was born in Alliance, Nebraska and graduated with honors in 1987 from the University of South Dakota.  He also graduated with honors from the Gonzaga University Law School in 1994. 
With almost 30 years of experience, Robert's law practice consists primarily of business, real estate matters and corporate transactions.  He has represented clients in a variety of legal matters including residential and commercial transactions, due diligence, acquisitions, marketing analysis, leasing proposals, landlord tenant, debtor-creditor (foreclosures, evictions, loan modifications), contract drafting and pre-litigation disputes, business formation, planning, partnership dissolutions and negotiation.  Robert has litigated numerous matters on behalf of Fortune 500 and small local companies in both Washington and Idaho state courts, federal district and bankruptcy court.
Robert also has considerable personal experience setting-up and operating small businesses as an entrepreneur and investor in the real estate industry.
Robert is a United States Army veteran having served as a Regular Army officer with the 11th Blackhorse Cavalry Regiment in Germany as a border officer and was honorably discharged in 1991.
Robert has been recognized by his peers with multiple Attorney of the Year awards for his commitment to provide volunteer legal services for the disadvantaged and poor in his local community.  His commitment to the community involves his work as a volunteer for his sons' Boy Scout Troop, the Union Gospel Mission and as a director of the local Crisis Pregnancy Center.
He is a proud husband and father of three adult children and their spouses.  Robert and his family are active in their church serving in various servant-leader capacities.  Robert enjoys spending time with his family and is especially fond of ultra-light backpacking, canoeing and winter camping.