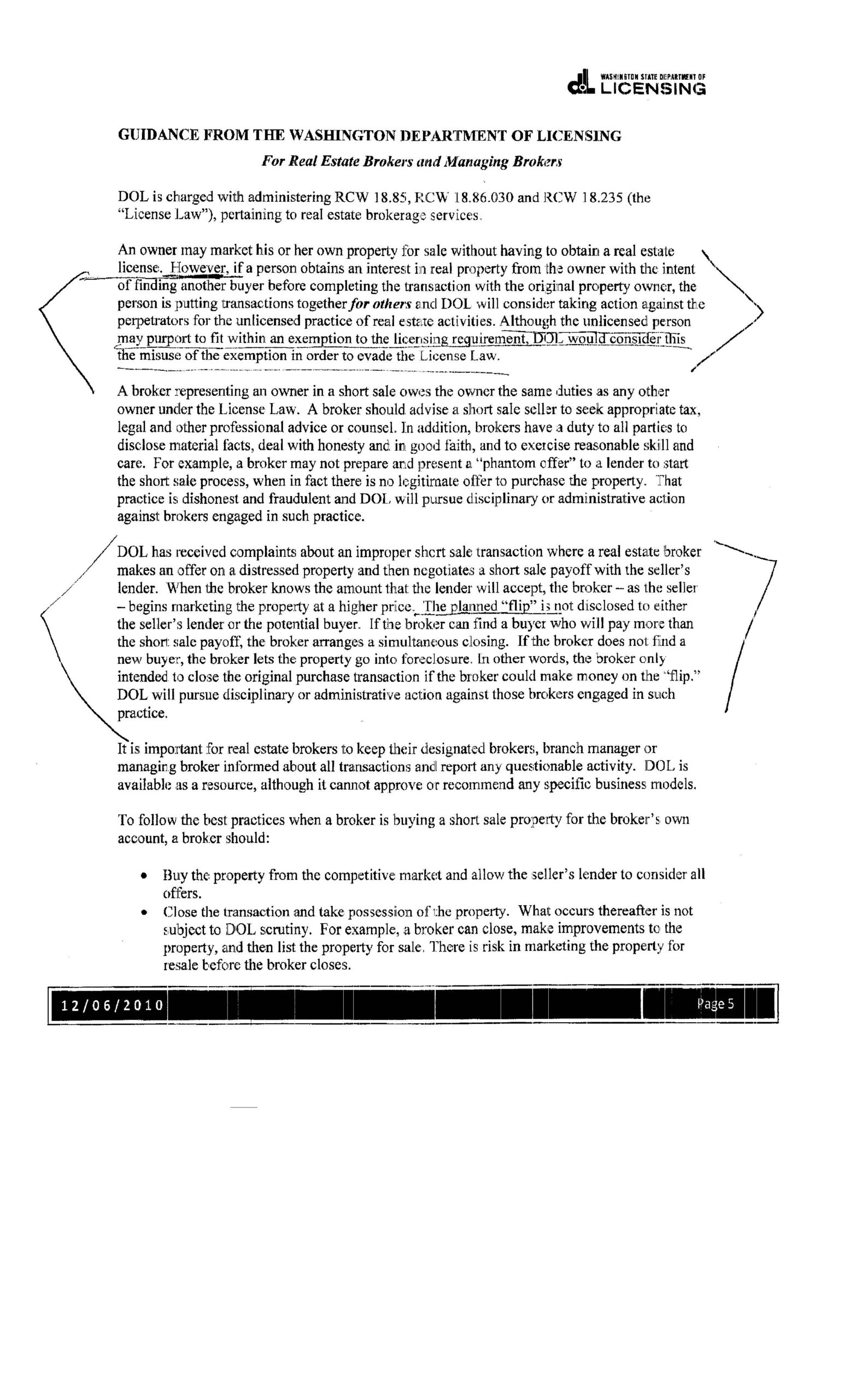 In 2010, the Washington State Department of Licensing ("DOL") issued a 'guidance' stating there are situations where an individual or business who engages in 'wholesaling' of a real estate purchase contract may be required to be licensed as a real estate broker under Chapters 18.85, 18.86.030, and 18.235 RCW.
As this is merely a 'guidance', and not a formal rule, there is room for potential enforcement action against a wholesaler. For example, it is possible that the transaction is exempt because a licensed real estate broker is not a party to the underlying transaction.
Situations where the DOL might  have a case is someone who: (1) is in the business of tying up multiple properties; (2) never intending to close but merely marketing her/his buyer's interest; (3) get an assignment fee; (4) if the wholesaler couldn't find a buyer for buyer's  interest; (5) had the right to terminate the deal at no cost to the wholesaler.  In other words, the transaction is illusory from the seller's position.
Disclaimer: The information in this blog post ("post") is provided for general informational purposes only, and may not reflect the current law in your jurisdiction. No information contained in this post should be construed as legal advice or the individual author, nor is it intended to be a substitute for legal counsel on any subject matter. No reader of this post should act or refrain from acting on the basis of any information included in, or accessible through, this Post without seeking the appropriate legal or other professional advice on the particular facts and circumstances at issue from a lawyer licensed in the recipient's state, country or other appropriate licensing jurisdiction.